Destina

Earth
Cancer

Soul Weaver
Covenant Summon
Destina is a Earth Soul Weaver with the Horoscope Cancer that you can summon from the Covenant Summon.
POWERCHART
Destina Stats

Characters Average Stats
PROS & CONS
Strong tank healer
All 3 skills can heal (first skill requires skill burn)
AoE debuff cleanser + CR boost
The combat readiness push after cleansing on S3 is very useful in PvP
Long cooldown for the third skill
Slow speed
Tier List Description
A raw healer that has heals on all 3 of her skills. Her first skill can be soul burned for a nice AoE heal. Her second skill gives a nice single target heal + some combat readiness. Her third skill is a team heal and AoE cleanse, but it comes at a high cooldown.
Destina is very slow, so you will 100% want a speed boot as you progress to late game or she will be outsped by pretty much everyone. The good part is that she is easy to gear as her heals(2nd and 3rd) scales off her own max health.
With the usage of candlestick, you can mitigate her only weakness, which is a long wait for her skill 3 cleanse when you need it in sticky situations. A counter set Destina with Celestine artifact is also a great use of her in the frontline as the tank.
RECOMMENDED ARTIFACTS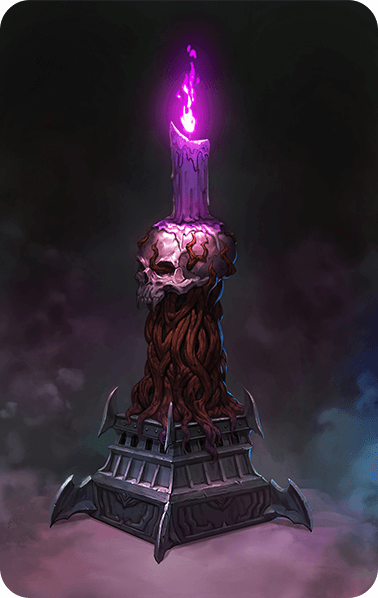 Prophetic Candlestick
Frequent Heals
This item is made for her if she is used as your frontline tanky healer.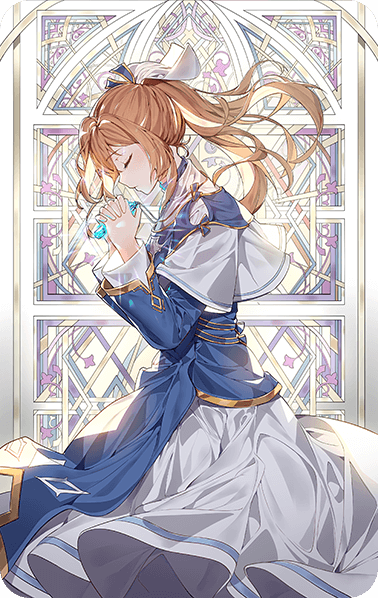 Celestine
Counter Heal
Best used with counter set for big heals often as the frontline tank.
RECOMMENDED SETS
Resistant
Speed
/
Resist
Hp%
Effect Resistance
Hp%
Counter
Counter
/
Hp
Def%
Hp%
Speed
SUBSTAT PRIORITY
Hp%, Speed, Effect Resistance%, Def%
DESTINA'S
SKILLS
Destina has 3 skills. Skills can be passive or active. Destina's Key to an Oath can be soul burned for extra effects. More information can be found on our Skill Multipliers page.

DESTINA'S
SKILL ENHANCEMENTS
Getting her S3 for the -1 turn cooldown will make her much better in the tank slot, especially with Prophetic Candlestick. S2 is also a good investment if you use her in many areas in PvE or PvP content.
DESTINA'S
EXCLUSIVE EQUIPMENT
Ruele's Sad Promise
Stat Improvement:
Effect Resistance (8%-16%)

Key to an Oath
Recommended
Dispels one debuff from an ally with the lowest health when using Key to an Oath.

Regen
Increases target's Combat Readiness by 20% when using Regen.

Destina's Grace
Decreases skill cooldown of Destina's Grace by 1 turn.
DESTINA'S
STATS
Base Stats
| Level | Stars | CP | Atk | HP | Def |
| --- | --- | --- | --- | --- | --- |
| 50 | 5 | 10663 | 378 | 3784 | 590 |
| 60 | 6 | 13301 | 471 | 4758 | 732 |
Awakened Stats
| Level | Stars | CP | Atk | HP | Def |
| --- | --- | --- | --- | --- | --- |
| 50 | 5 | 12225 | 498 | 4578 | 625 |
| 60 | 6 | 15529 | 621 | 6034 | 775 |
| Critical Hit Chance | Critical Hit Damage | Dual Attack Chance | Effectiveness | Effect Resistance | Speed |
| --- | --- | --- | --- | --- | --- |
| 15% | 150% | 5% | 0% | 0% | 89 |
DESTINA'S
AWAKENING
MEMORY IMPRINT
Position
Imprint Release
Health 4.3%
Health 6.4%
Health 8.6%
Health 10.7%
Health 12.0%
Imprint Concentration
Effect Resistance +13.50%
Effect Resistance +22.50%
SPECIALTY

Dispatch Mission
[Unknown Knowledge] Attribute
Specialty Effect
Reward Bonus +10%
LABYRINTH
Character Chat Options
Sad Memory
,
Heroic Cheer
This shows the morale points you gain when the following chat options are selected. Check out the
labyrinth team calculator
to gain the most morale points here.
AdDITIONAL INFO
ARENA TEAMS
Post Buff Champion Zerato Auto Mode
Arena Level:
Champion
Comments
This is a showcase of my +13 Champion Zerato in champion tier arena after his buff from the recent patch.
Here are some tips and tricks for this setup:
– This is optimized for Champion tier
– Extremely strong against any type of Dizzy and SSBellona team
– Champion Zerato will be countering very often against high CC teams
– Champion Zerato attacks 2 enemies with his S1 transferring debuffs.
– Sira-ren is an amazing artifact to spread debuffs, Lela Violin can also be an option to remove buffs
– Having multiple Idol's cheer allows Champion Zerato to be very fast without building speed gears
– ML Cecelia, ML Crozet, and Charles with arius/elbris can replace an Idol cheer's spot
Pros:
– Can Auto PvP
– Extremely strong against any type of Dizzy and SSBellona comps
– Champion Zerato S1 attacks 2 enemies and also healing himself
– Champion Zerato S1 transfers debuff back to enemies
– Champion Zerato S3 decreases enemies defense and attack
– Champion Zerato S3 increases his defense which allows him to be extremely durable
– Champion Zerato is immune to sleep, stun, and decrease hit chance
– Champion Zerato is will counter with S1 everytime he is hit with a debuff
Cons:
– Very high investment required
– Multiple idol's cheer is required
– ML Zerato needs to have high mola investment
– Watcher Schuri is able to one shot Champion Zerato
– Optimal team requires both Ruele and ML Chole for resurrection
Gears for characters showcased are at 9:48
Enjoy the video!
Seaside Bellona Showcase
Arena Level:
Champion
Comments
This pvp comp is completely auto pvp. This comp showcases SS Bellona's ability to absorb damage and constantly counters the opposing team. With 3 supports keeping her alive and a passive defense break, one can simply sit back and watch her passively cleave through the enemy team.
by Epic Showcase
Chaos Sect Axe DPS [Astranox]
Arena Level:
Champion
Comments
Astranox uses Chaos Sect Axe as the main DPS with a strong supporting cast of Destina for heals, ML Ceci for barrier and Montmo for emergency heals in Champion arena. He shows stats of some of his heroes around the 35:52 mark.
STORY STATS
Command
84
Charm
91
Politics
19
HERO BACKGROUND
Nicknamed "the Beast of the Western Light," Destina is a master of light and metal who has physically manifested in the image of her deeply beloved Soul Weaver, Ruele.
CHARACTER RELATIONS