Furious

Ice
Leo

Ranger
Covenant Summon
Furious is a Ice Ranger with the Horoscope Leo that you can summon from the Covenant Summon.
POWERCHART
Furious Stats

Characters Average Stats
PROS & CONS
Team critical hit chance buff
Single target defense break S3
Viable Wyvern member
Frees up DPS to have more critical damage
No Aoe Attacks
Low burn chance on S1 (ice burn?)
Tier List Description
A great support utility ranger with damage options. His S2 will give you new options for PvP! His S2 team critical hit rate buff will lower the requirements of cleave or single target DPS units by 50%, allowing more critical damage% for more DPS.
He is also viable for Wyvern as his kit is great there. For PvE content, Song of the Stars is probably the to go artifact as it improves his teammates overall damage. The critical hit buff has good uptime (only 1 turn of no critical buff). It is best to build him on the faster side so he can provide the critical hit rate buff consistently. He can also be built as a DPS but his kit really shines in the support role. His skill 3 has built in defense break and while it is on a 4 turn cooldown, it is actually only 3 turns. If you use S3 -> S2, then it goes down to only a 1 turn cooldown. So he can defense break every other turn, which is really good, especially as a free connection hero.
In PvP, it will be fun to see him in cleave teams and also big damage from the DPS due to lower crit rate requirements.
RECOMMENDED ARTIFACTS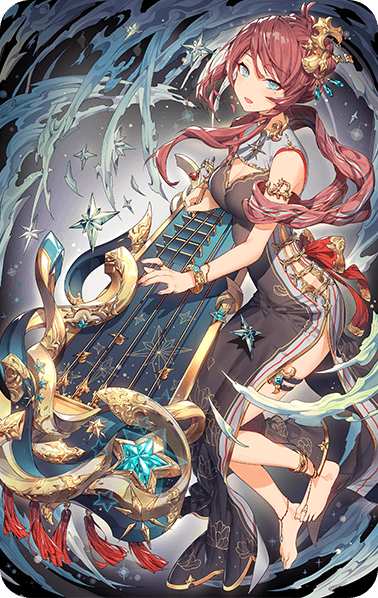 Song of Stars
Target
Provides more utility to allies, allowing them to deal more damage.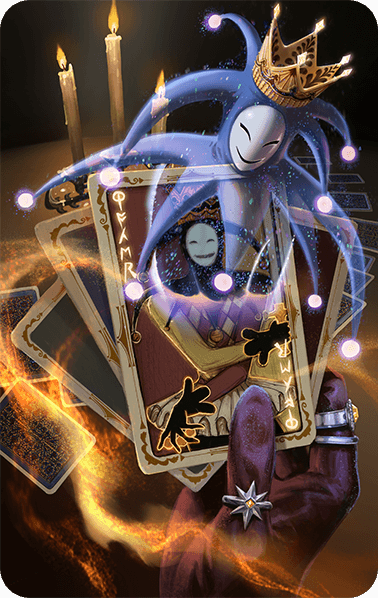 Daydream Joker
Wyvern
More damage against Wyvern.
RECOMMENDED SETS
Speedy utility
Speed
/
Crit Rate
Crit Damage%
Atk%
Speed
SUBSTAT PRIORITY
Speed
Crit Damage%
Atk%
Effectiveness%
Hp%
FURIOUS'S
SKILLS
Furious has 3 skills. Skills can be passive or active. Furious's Fatal Bullet can be soul burned for extra effects. More information can be found on our Skill Multipliers page.

FURIOUS'S
SKILL ENHANCEMENTS
Definitely S2 for the -1 turn cooldown. S3 for the 100% defense break chance if you intend to use him as the primary defense breaker.
FURIOUS'S
STATS
Base Stats
| Level | Stars | CP | Atk | HP | Def |
| --- | --- | --- | --- | --- | --- |
| 50 | 5 | 10886 | 677 | 3817 | 432 |
| 60 | 6 | 13584 | 843 | 4799 | 536 |
Awakened Stats
| Level | Stars | CP | Atk | HP | Def |
| --- | --- | --- | --- | --- | --- |
| 50 | 5 | 12530 | 857 | 4271 | 432 |
| 60 | 6 | 15920 | 1068 | 5650 | 536 |
Critical Hit Chance
Critical Hit Damage
Dual Attack Chance
Effectiveness
Effect Resistance
Speed

15%

(+8%)

150%

5%

0%

0%

110
FURIOUS'S
AWAKENING
MEMORY IMPRINT
Position
Stats
Critical Hit Chance 3.6%
Critical Hit Chance 5.4%
Critical Hit Chance 7.2%
Critical Hit Chance 9.0%
Critical Hit Chance 10.8%
Critical Hit Chance 12.6%
SPECIALTY
Title
Cold-Hearted Verdict
Dispatch Mission
[Strong Leader] Attribute
Specialty Effect
Reward Bonus +10%
LABYRINTH
Character Chat Options
Heroic Cheer
,
Reality Check
This shows the morale points you gain when the following chat options are selected. Check out the
labyrinth team calculator
to gain the most morale points here.
AdDITIONAL INFO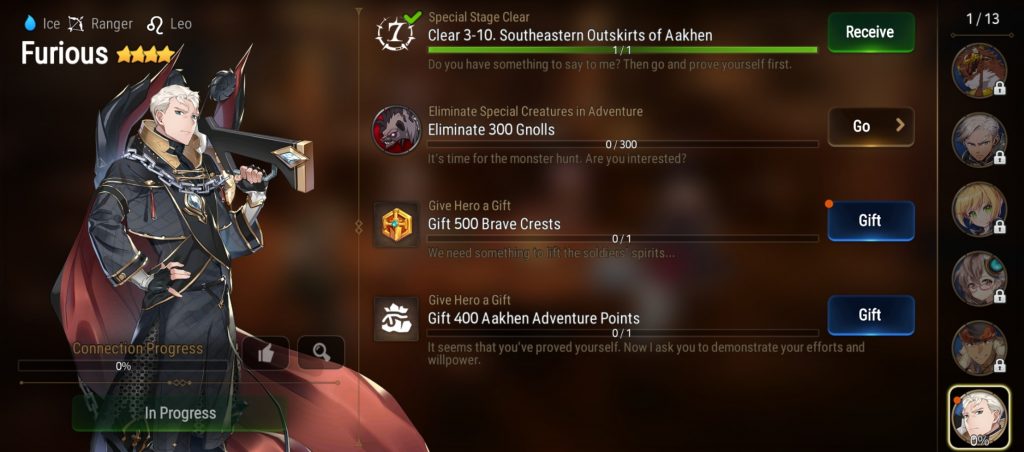 For Furious's connection, you want to fight Gnolls on 3S-4.
Furious in Wyvern 11 auto with a basic no nat 5 team:
STORY STATS
Command
89
Charm
24
Politics
82
HERO BACKGROUND
A man of principle, Furious believes that a leader should serve the community, not individuals. He believes that the city lord is an important cog machine that is Akahen.
CHARACTER RELATIONS